---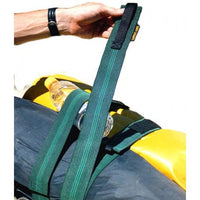 The long distance travel friend.
Access to light gear such as wet weather clothes on long trips can be a pain in the RRRRRs.
Packing and unpacking each time you stop soon gets very tedious. (I was introduced to Andy Strapz by way of this very product while riding in Australia some years back. They're a really clever design.)

Piggyback Strapz luggage straps provide an easily accessible "compartment" that can be used in seconds.
Perfect for holding camping gear on your rack.
Leave the camping gear undisturbed while you have a place to stow wet weather suits, stash a jumper, dry a towel or hold a jacket or helmet when you stop for a coffee.
Two inch stretch webbing and heavy duty hook and loop fastener for a safe and strong join.
Proven over thousands of kilometers.
The second arm is sewn to Flat Strapz to convert them.
Use them as hard pannier safety straps.
Imagine pulling over and taking off a jumper as the day heats up. Simply slip it under the Piggyback and hit the road. Turn a wet towel at each stop and it will be dry by afternoon tea. The possibilities are endless.
How to choose your size ?
Place the item/s where you want it (usually on the rack) and measure around it rack and all. This is the size you need as the stretch in the strapz provides the overlap.
3 Sizes,
Small - 1000mm
Medium - 1250mm
Large - 1500mm
Priced and sold AS A PAIR