---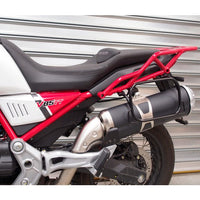 Australian Made saddle bag frames for Moto Guzzi 85TT
Lightweight frames to support throw over pannier bags
As the weight of the bags is carried on the seat we only require the frames to stop the panniers flapping about or contacting the exhausts.
You'll see all sorts of comments out there in webland. A common comment is that our frames are too lightweight. Our approach is to make a frame that can take minor tumbles, be straightened with a pair of hands and a size nine after bigger ones, repaired in a cockies shed and protect the subframe of the bike by being somewhat "sacrificial".  This Andy Strapz pannier support sets weigh in the region of 0.5 kg per side so we ain't making rear end crash bars.
Supplied with all fittings and spacers required.
Weight  - 1kg for the whole set! Yes, both sides and bolts.