---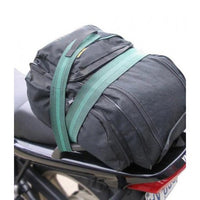 Australian Made alternative to Bungee luggage straps
Useful for adventure travel, trades, 4x4, cycle and motorcycle touring.
Choose from 5 Sizes -  Price per pair
Many times stronger than bungee straps.

Two inch wide elastic luggage straps.

Heavy duty hook 'n' loop fastener for a strong, safe join.

Five sizes, packed in pairs.

Fast, safe, amazingly strong and simple to use.

Closes on top of the load.

Easier to use.

Won't cut in or roll off.

Adjust length by wrapping a couple of times.

Proven over hundreds of thousands of kilometers.

Use them anywhere you'd use a bungee cord or bit of rope.

So simple yet so very effective.

Available via this website or at selected motorcycle shops across Australia.
Andy worked as a senior emergency nurse and hated bungee straps.  They are one of the top three leading causes of permanent eye injury in Australia. A eureka moment saw the birth of Andy Strapz.
Imagination is the only limit.
Wrap them around an item and an anchor point.

Flat Strapz will hold tight without cutting in, sliding off or rolling to the centre.

No hooks to take out an eye or scratch and dent your pride and joy.

Quick and easy to use.
Currently used in

Motorcycling

4WD

Trades

Farming

NSW Ambulance service

Camping

Surfing

Snow ski and snowboards
Standard equipment in all New South Wales Ambulances.

How to size them

Place the item where you want it (usually on the rack) and measure around it rack and all.  This is the size you need as the stretch in the strapz provides the overlap.  If you plan to use any of the methods seen above the same applies.  Remember, the stretch in the strap provides the overlap.

When you get your Strapz try different methods of use to get flexibility in relation to the lengths. Wrap around a bar of similar to shorten.
Remember you can't make them longer but you can make them shorter.